Best Dressed Celebrity Brides of All Time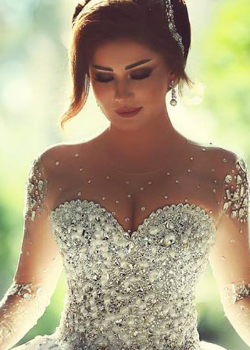 Many people really go to town with their weddings, and with celebrity brides, it's practically an expectation. While many people are cynical about the duration of celebrity marriages, it seems that lots of celebrity brides might be trying to swing the odds in their favor with their wardrobe choices alone. Some of the most famous best dressed celebrity brides have been the envy of the entire world for a long time.
Kate Middleton -
Only the most idealistic people would deny that the royals of Great Britain count as celebrities, and Kate Middleton might be one of the most famous of all of them in recent years. Nearly the whole world watched the royal wedding, especially Kate Middleton's French Chantilly lace dress with hand-cut English lace.
Elizabeth Taylor -

Elizabeth Taylor is one of the screen legends who has truly managed to live on, and her gorgeous wedding gown has had a similar level of immortality. Many people today will love the should-baring gown, which has managed to stand the test of time in a way that hasn't worked for a lot of mid-twentieth century clothing. Her dress was worth fourteen thousand dollars in today's dollars, but she is still one of the best-dressed celebrity brides decades later.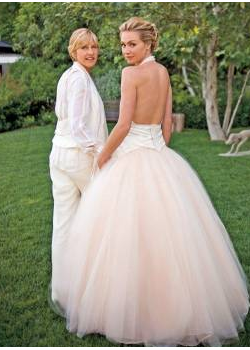 Portia de Rossi -

Portia de Rossi and Ellen DeGeneres got married in 2008, and Portia de Rossi managed to stun audiences all around the world with her huge ballerina-like wedding gown that was nearly completely backless. Her dress was very much in vogue for the 2000's, and it has still managed to hold up nearly ten years later.
Princess Diana -

Princess Diana may be one of the most famous royals of the modern age, with many people still mourning her tragic demise. In the 1980's and the early 1990's, wedding fashion was very big, just like fashion in general. Her dress literally had ten thousand small pearls, and that's in addition to the giant puffy sleeves and the embroidery, sequins, lace, and everything else that a person could possibly use in a dress. However, as big as the dress was, it still managed to be stylish rather than tacky.
Ivanka Trump -

In more recent years, Ivanka Trump has been in the news due to the actions of her father. However, she should still also be known as one of the best dressed celebrity brides of all time. Her dress is much more modest and tasteful than many of the other entries on this list, which was intentional on her part. However, her dress still managed to be stylish and not the least bit prudish, giving it a strong element of class.
Julianne Moore -

While many of the brides on this list had wedding gowns that were highly stylish in their day and in any day and were very traditional, Julianne Moore has never been known for being traditional. Her wedding dress was lilac, slinky, and silky rather than big, bold, and white. There's something almost inspiring about her choice to defy convention in a manner that was still tasteful.